Congratulations, you've completed NEXT's Opioid Overdose Training
Due to limited resources, Next Naloxone prioritizes sending naloxone to people who use drugs and people are who are in direct contact with people who use drugs.
If you do not have regular contact with people who use drugs, but would like to carry naloxone on hand, please see if your state is listed on the "Outside of NY" menu above, or reach out to us via the contact form. You can also check out the Facebook page: www.facebook.com/freenarcanresourcesnationwide for alternative options for obtaining naloxone. Thank you so much for seeking resources to prevent overdoses in your community.
Shipping costs for Next Naloxone are driven by individual and private donations. Please make a donation to support our work, and reach out to us if you have any additional questions or concerns.
To have naloxone mailed to you please complete the form below. It is imperative that you provide an accurate email and mailing information.
Before you enroll:
Our work is based in New York state. If you are requesting supplies in Arizona, Arkansas, California, Connecticut, Florida, Georgia, Hawaii, Indiana, Iowa, Maine, Michigan, Montana, North Carolina, Ohio, Utah, or Virginia, we will forward your information to a vetted project associate who will mail your supplies to you (this may be Narcan, or intramuscular naloxone). If you are not from New York or any of the states listed above, you may still enroll. We will contact you through the email you provide, if you do not receive an email from carol@nextdistro.org within 48 hours, please check your spam folder.

Our enrollment form is not HIPAA compliant or encrypted. If you're uncomfortable transmitting your name and address through our form, simply use a pseudonym for the "Name" box and alternate information for the address and email boxes. Let us know how we can contact you using one of the text boxes, reach out to carol@nextdistro.org, or text 917-828-0293 via Signal, WhatsApp, or SMS. Make sure you include your pseudonym in any correspondance.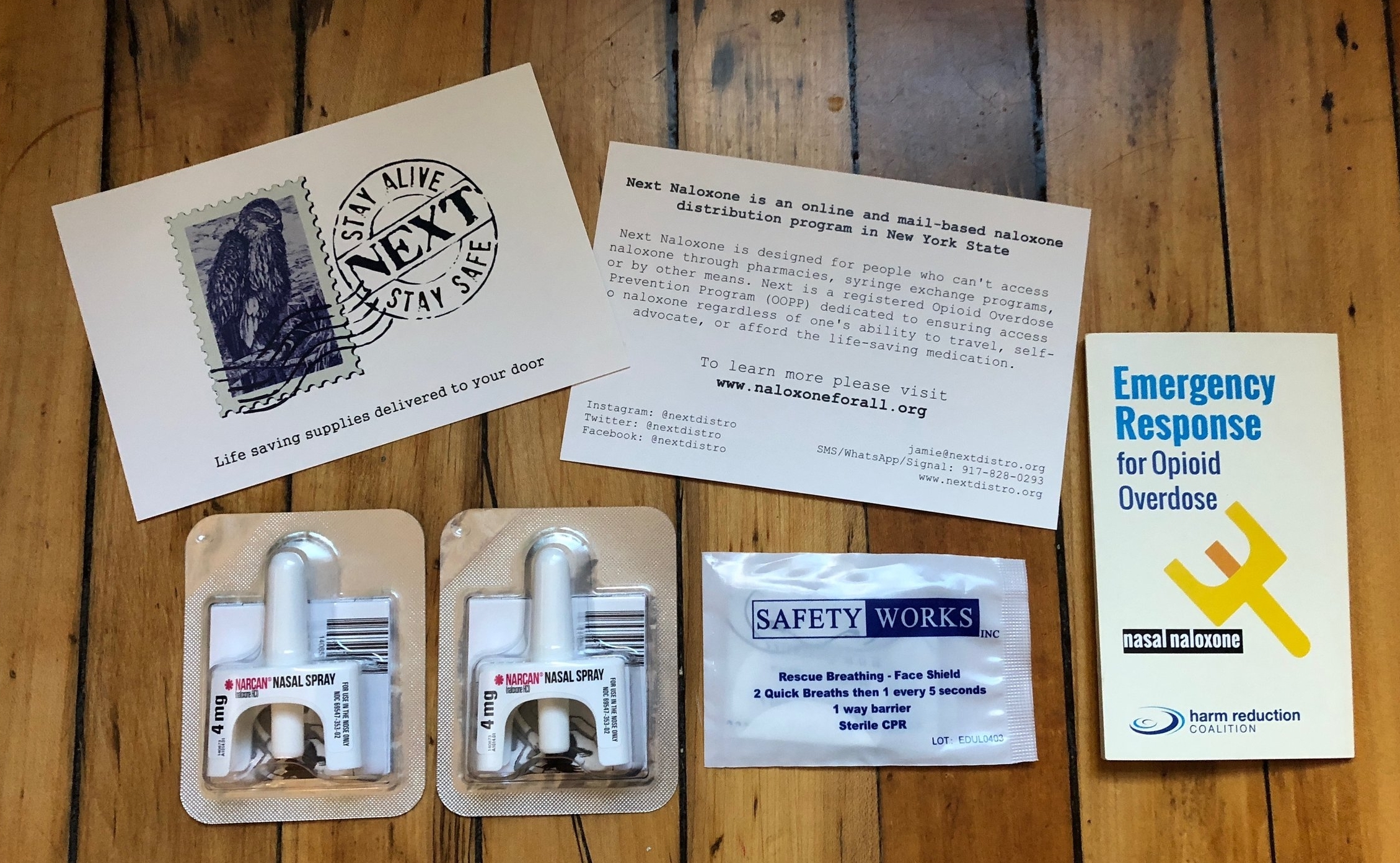 What will be mailed to New York State residents:
Two doses of intranasal Narcan brand naloxone
A rescue shield for rescue breathing
Certificate of completion
**The materials mailed to individuals outside of New York state vary. Please look for our correspondance to your email.