find Resources in
virginia
In 2017, there were 1,241 drug overdose deaths involving opioids in Virginia—a rate of 14.8 deaths per 100,000 persons (cit.) If you are a person who uses drugs or if you are around people who use drugs, please consider learning how to respond to an opioid overdose and carrying naloxone (intranasal brand name: Narcan). Naloxone is a medication designed to reverse an opioid overdose. Opioids slow down the activity of the central nervous system. One effect of this is slowed or stopped breathing which could lead to death. Naloxone knocks the opioids out of the opioid receptors in the brain which allows the person who is experiencing an opioid overdose to begin breathing normally. We have a helpful FAQ and are constantly updating it with questions from our site visitors. If you don't find what you're looking for, let us know.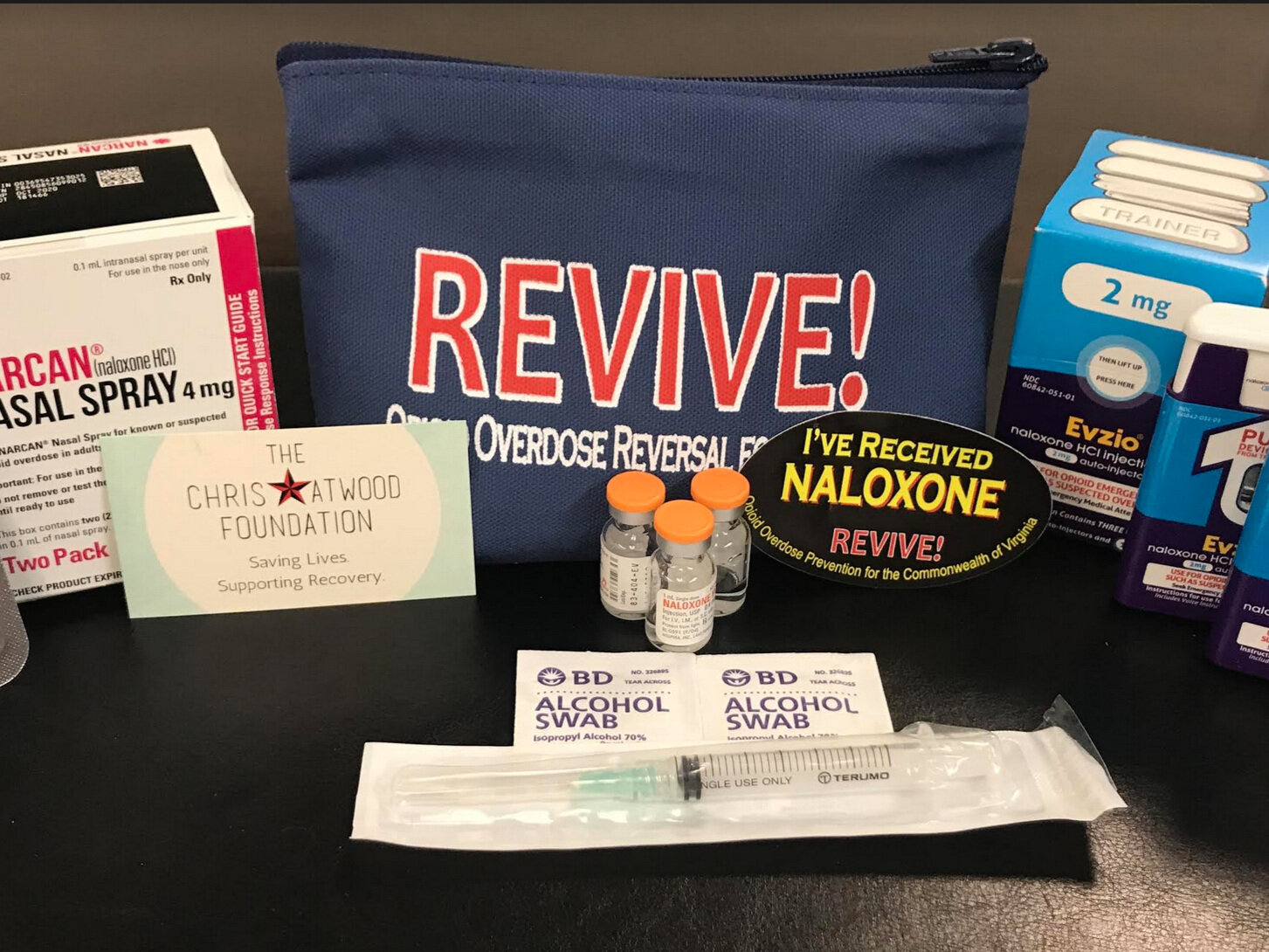 Have naloxone mailed to you
With the partnership of Chris Atwood Foundation you can have naloxone mailed to you at no cost. Individuals who use drugs and those who are likely to be first responders (friends, loved ones) are prioritized for naloxone distribution.
REVIVE! is the Opioid Overdose and Naloxone Education (OONE) program for the Commonwealth of Virginia. Currently REVIVE! provides training on how to recognize and respond to an opioid overdose emergency with the administration of naloxone. REVIVE! trainings are provided at no cost to laypersons.
overdose response training calendar
A calendar of overdose response trainings by county can be found on the REVIVE! website. All trainings are free and advance registration is usually required.
Naloxone Exchange by Script Health is an online naloxone-specific pharmacy operating in the state of Virginia. Naloxone Exchange provides intramuscular, intranasal, and auto-injector formulations of naloxone.
CurbTheCrisis.org is a website intended as a comprehensive resource for all Virginians in the fight against opioid misuse and overdose. The website has a helpful treatment resource locator and tips for how to access drug treatment.
Virginia's good samaritan law
In the state of Virginia, any person assisting in an overdose emergency can do so without fear or arrest due to possession of a dangerous substance, possession of drug paraphernalia, or providing alcohol to a minor. Click below for more information on other criteria related to the state's Good Samaritan Law.
Various suicide and crisis hotline resources.
Syringe exchange in virginia
Pharmacies in the state of Virginia are authorized to sell syringes without a prescription. Syringe exchange programs generally have a menu of additional drug user health services available.
If you are a person who uses drugs in the state of Virginia and you are unable to access clean syringes through pharmacies, syringe exchange programs or online marketplaces like OTCwholesale.com, please reach out to NEXT for assistance.
The Chris atwood Foundation
The mission of the Chris Atwood Foundation is to save lives from opioid overdose, support recovery from substance use disorder, and defeat the stigma of this treatable brain disease. Chris Atwood Foundation is the Virginia affiliate partner for NEXT Naloxone.
virginia harm reduction coalition
Virginia Harm Reduction Coalition is a peer-run 501c3 nonprofit organization. Their mission is to improve community health by advocating for, implementing and developing evidence-driven solutions to the adverse effects of drug use.
The Urban Survivors Union is a national drug users union mobilizing against the war on drugs. Check out their wealth of resources including #reframetheblame a campaign against drug induced homicide laws.
Get Naloxone Mailed To You
If you need naloxone and cannot access it locally, you may place qualify to have naloxone mailed to you.